Choice and Chase's Bank
Home

Choice and Chase's Bank
As a lifelong MegaFan of systems it has been exhilarating and challenging to work in the space of deep student choice. In the makerspace we have to go far beyond welcoming choice; we really have to build an experience where choice feels the norm. We are learning through versions and drafts, through mistakes and following our curiosity where it will take us; through intentionally breaking and pushing the limits of materials. If rich learning is what we want, choice is what will get us there. Not many people get to spend a whole lot of their work life being a "yes" person so I feel fortunate that figuring out a way to make student ideas work, to say "yes" as much as possible, is part of my current job description. Even when a first grader says they want to make a bank shaped like a dragon. Even when another student in that class says they want to make a bank out of a tube with rocket boosters on it. Even when another student says she wants to make a bank that looks like a witch hat. Even when another says they want a bank embedded in a mountain scene. All of them get a yes.

Jackie Woodie & Ali Smith are two first grade teachers building a math unit about money. Their class earns a certain amount of "money" each afternoon and students started to pile up these plastic coins. Eventually they will get to exchange their play money for some fun market items. Managing and saving the precious plastic coins became paramount to maintaining the excitement for the additive aspect of saving the money. There are lots of easy ways to store student items, starting with the classic paper lunch sack each child could decorate. So if that's a baseline storage system that's out there… what would innovation look like?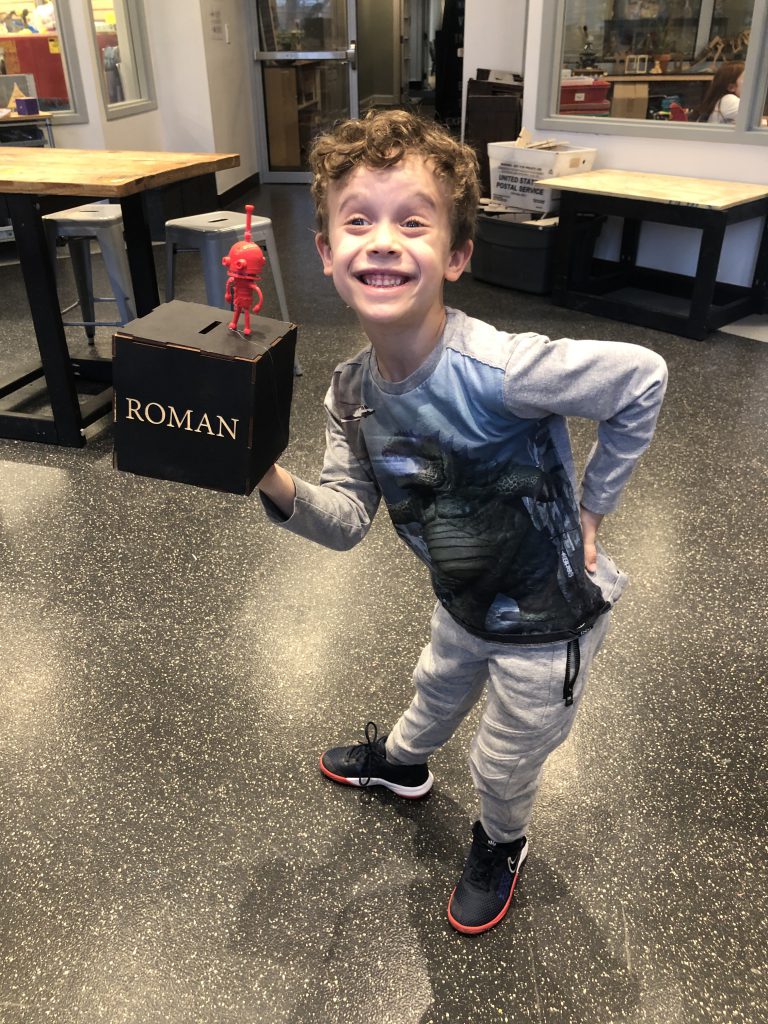 Jackie & Ali did a great job encouraging the design process. Students drew blueprints for their bank ideas. They wrote a short statement describing their bank: "my bank is a blue lego with a removable top and the word 'precious' written on the side." They are in first grade and they are very passionate about their ideas. They built a prototype model of their vision with basic tinker supplies like cardboard, straws, paper towel tubes, paper, and marker drawings. With pride in their prototypes, they displayed them on their desks for me to peruse. There was no way to systematize the creativity sitting on those desks. They were all excited for their individually designed choice! Now it was our turn to come up with a way to make 18 different 2nd prototypes.
Even though papier mache is marvelous for individual modeling, and some precisely scaled papier mache models of the planets landed me first place in my 4th grade science fair, I knew these final prototypes really needed to step up a notch and use some machining. In the simplest form we did have some students who just wanted a box shape (dimensions and plans nabbed from makercase.com made these ones pretty straightforward), and added on to their boxes to morph them into another design altogether. Some students wanted to work with a nice cardboard tube, but laser cut an aerodynamic top to look more like a rocket or airplane. Then we had Chase and Dash, who wanted dragon shapes.
I recently saw a bank tutorial from Carvey's Easel about mini banks where a pocket is milled out from a shape, then an acrylic top screws in so you can see the money collecting in the bank. In the moment of having these two budding dragon bankers watching me select the right tool for the job, I defaulted to mocking up this same idea on the laser cutter, so the banks were a little larger than might have been ideal, but we achieved pretty much the same result. To complete the dragon banks we used the laser cutter, contoured the shapes, painted, sawed out part of the contour to make the slot for the money, wood glued and clamped, and drill pressed the hole to accommodate a screw and wing nut. Other than the initial design graphic, Chase and Dash built the entire thing, from running the laser to working with wood glue and clamps, to changing out the drill bits on the press and sorting through hardware we had on hand to find the right size for the wingnuts we had on hand.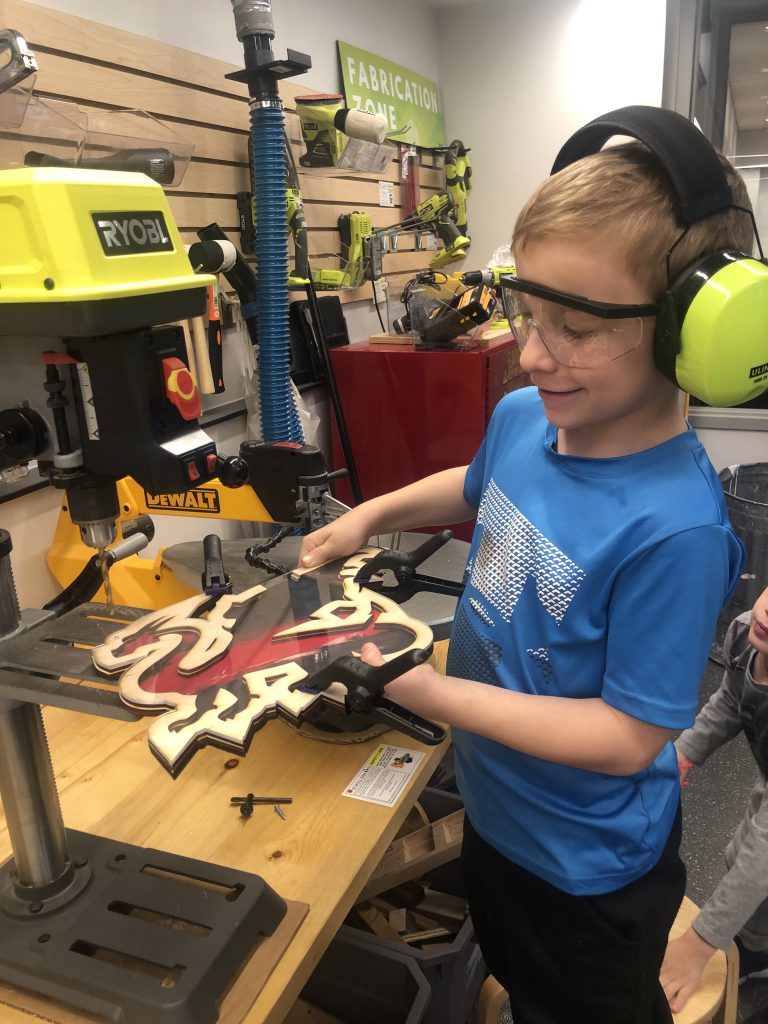 At the same time, I have a student tacking fabric together to form a witch hat that can store money inside its cone, yet still be worn (her design parameter is that the hat also has to be functional). She knew how to help herself to the fabric stash and found materials that inspired her. She created a form from crumpled newspaper to wrap her fabric pieces around. In both of these cases, an initial design choice led to many more choices and ultimately, a lot more opportunities to learn and fail forward.
What I really love about choice is this: They are working alongside a classmate who is doing the same project and learning the same content in a totally different way and watching how each other figures it out. They are learning to respect that someone going through the same experience might select a wholly different approach. They are having adults in the community cheer on their idea and support them in giving it a go, not worrying about what exactly the outcome will be. We are having important conversations about craftsmanship and the value of making each iteration better than the time we tried it before. We are learning how to celebrate the many different possible outcomes as each student returns to the classroom with their unique completed bank, and feels proud and happy and excited to see their choices on such fine display.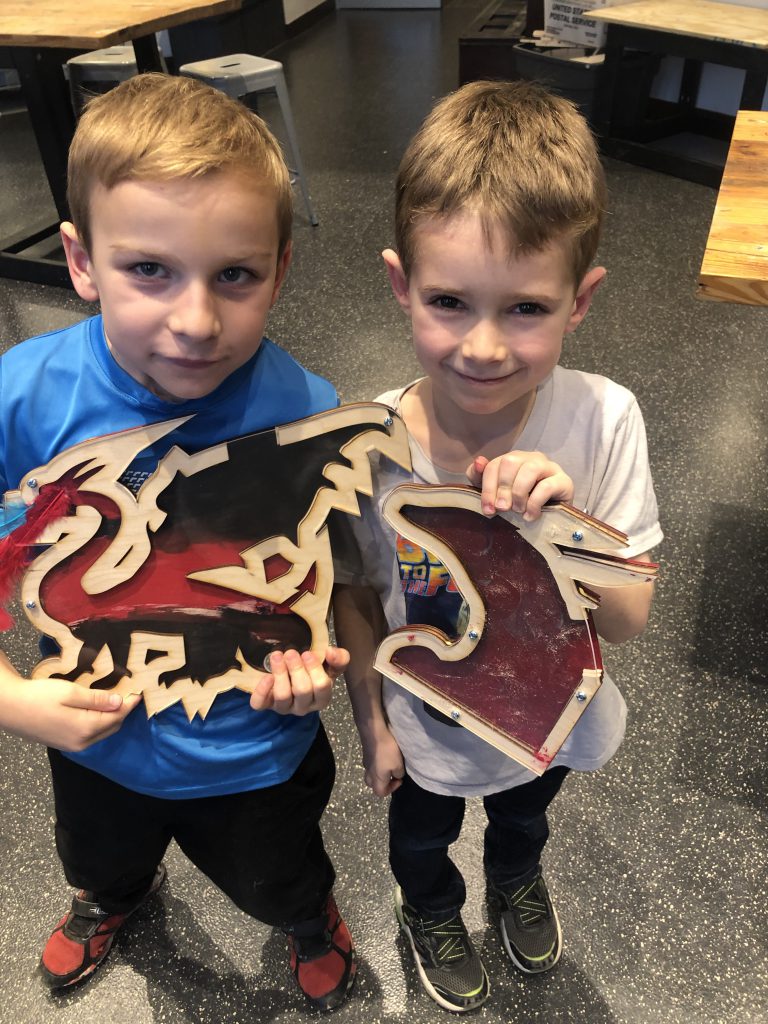 Anna Delia
Mrs. Delia is the Director of the Innovation Lab, Hawken's PS-8 Grade Makerspace, Woodshop, and Science Lab located just outside Cleveland Ohio. She works with all teachers and students to create making experiences. Mrs. Delia loves everything about Japan, where she grew up, and making student visions a reality. She made both the hat she is wearing and the baby she is holding her profile photo. Currently, her favorite machine in the Innovation Lab is the router, which she recently used to round off edges of giant wooden dice for an after school maker group.